Enterprise at your fingertips, remote access to data, decision support and more.
EDS Mobile turns your mobile device into a real time mobile decision-support machine by bringing all critical data wherever you go.
Use Multi-Touch gestures to navigate through a multi-level screens layout reflecting your company's organization structure. Compare plant's performance side-by-side on a macro level using key performance indicators (KPIs) or drill down to data as precise as the meaning of a single bit in a control system's register. React to live alarms generated from calculations, measurements, or predictive alerts imported from the control system. Display high fidelity process diagrams representations of industrial automation systems updated online. Analyze your plant's operational history by reviewing and plotting historical events and data..
Note: the EDS Mobile App is preconfigured to connect to Emerson virtual plant for real-time and historical data shown. To design your own dashboards using data from your control system please visit our App Support page and request an EDS server installation.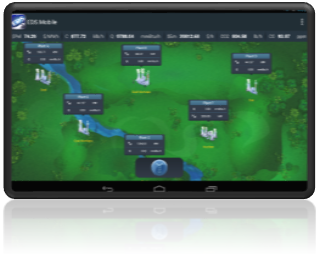 Explore your enterprise data in the way you like most:
Use a map display to locate the plant
Access assets unit by unit by tapping and scrolling screens
Use filtered lists to merge data from different locations
Display groups of measurements and the KPI you are interested in
Access detailed information and plot values at any time
Compare plants' performance online:
Use the plant grouping tool to define the scope of analysis.
Use various group filters to select interesting information.
Take advantage of the multi-panel scrolling to compare performance.
Navigate to lower level detailed views to get a better picture of the current status.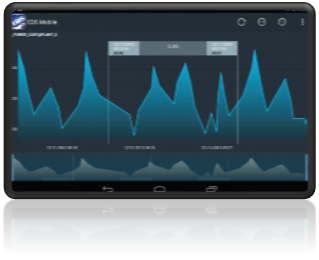 Don't miss a bit in the big picture:
Take advantage of alarm propagation to get to its source
Display live alarms
Review historical alarms and events
Display live and historical plots for any value
Keep current or explore trends in operation
Access live process diagrams
Use engineering tools to access hardware-level information, timestamps and statuses
Use status word explanation tooltips for multi-bit registers